Type: Domestic
—
Client: Private
—
Location: Islington, London
—
Year: 2022

Pirouette House
Overhaul of an ex-local authority home in Islington with a new timber cloister that encircles a hidden courtyard and a series of unexpected spaces that pirouette around a triangular column.


Built in the 1980's, Islington's Grove Estate is composed of rows of nondescript houses, accessed via a warren of narrow passageways which are flanked by blank brick walls. Invisible to the adjacent passage, the spatial drama of Pirouette House is revealed in its surprising interior.
A timber cloister unfurls in two directions along a new courtyard, while the kitchen, dining and living spaces pirouette around a triangular blue column that marks the transition between old and new. The secret courtyard garden is designed as an outdoor room, picking up on the language of rhythmic red timber piers that give the exterior a striking presence. Externally the timber frame slides beyond the façade to form a bench that catches the midday sun. Low cost and low carbon, the house transformed the living environment for a young family.
The project is a test bed for the use of timber to create character. Deep, rhythmic red fins sit atop a pigmented blockwork bench and contrast with fine silver grey larch boards. Internally, the warm douglas fir beams and boards are interspersed with diamond skylights that cast light patterns into the kitchen. Primary colours highlight the joinery, with the blue column, yellow bookshelf and terracotta red staircase enlivening the space.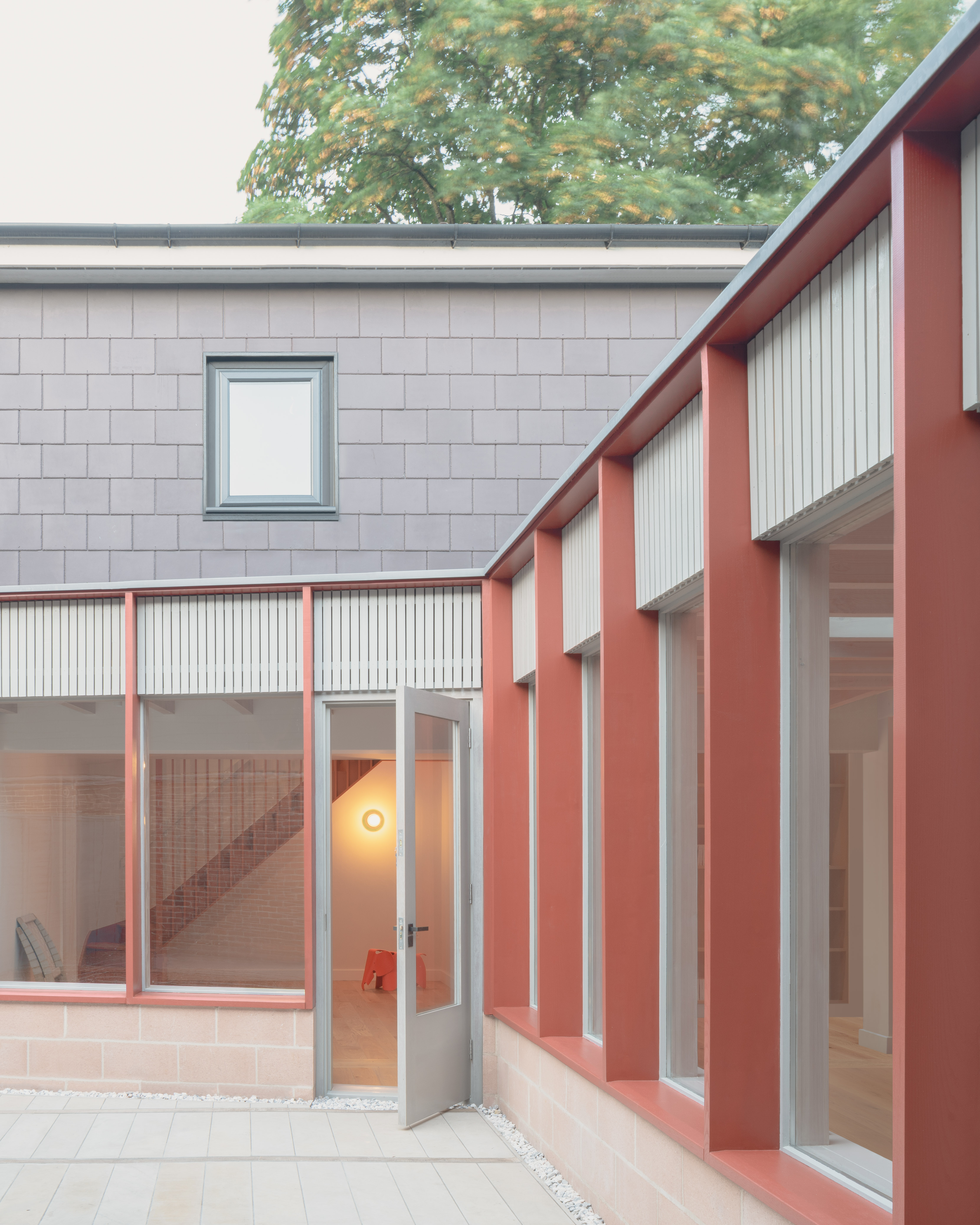 "Artefact did a great job transforming our simple council house into a hidden gem in the heart of Islington. They made the most of existing features while creating a unique space that perfectly suits our family! "
— Client
Team:
Contractor - MM Projects
Structural Engineer - Simple Works

—
Awards:
AJ Small Projects Award 2023, Shortlisted
NLA Don't Move Improve Award 2023, Longlisted
—
Press and Publications:
Divisare, February '23
Leibal, February '23
Archdaily, February '23
Dezeen, December '22
Architect's Journal, December '22
—
Photography: Nick Dearden